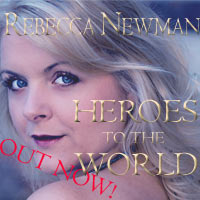 So, I finally have some music news to share with you. Talented soprano Rebecca Newman has just released one of the songs I wrote the music for – a big anthem called "Heroes to the World". Some of you might recognise that the chorus is actually the theme from "Francesco's Mediterranean Voyage". Rebecca's album will be available in the new year, and will feature another co-write "Dare to Dream", which is also the name of the album.
The official video is close to completion, but meanwhile, Rebecca has uploaded a Rugby World Cup tribute video which I hope you'll enjoy. http://www.youtube.com/watch?v=_dj082uaFFQ&sns=em. The single is available through Amazon and iTunes https://itunes.apple.com/gb/album/heroes-to-the-world-single/id732058910 and 10p from each sale goes to charity. A bargain at 79p! Rebecca sang live at the Ireland vs Fiji rugby match on the 28th October.
My 'album' is still some way from completion unfortunately. BBC work has kept me busy and I have two series due out shortly. The first – "Britain and the Sea" with David Dimbleby, a 4-part series is scheduled to start on 17th Nov, 9:00pm on BBC1. David takes a fascinating voyage around Britain on his boat, while revealing some truly interesting stories along the way.
The second series with Jeremy Paxman is altogether much tougher viewing – "Britain's Great War", a 4 part series about WW1 scheduled for a January broadcast in line with the centenary. I did feel I was scoring a war drama while working on this one and I'm very pleased with how the music has turned out. I will update you with broadcast dates for this series when available.