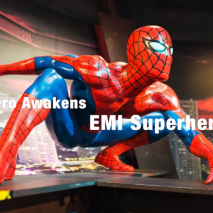 Well, my promise to deliver Part 2 of the forthcoming "Revealing Destiny" album by August was scuppered by various other projects, including the forthcoming EMI "Superheroes" album.
I created a short video montage of the 4 pieces I co-wrote – three with the brilliant Michael Doherty and one with the talented young Anže Rozman. Julie Elven once again delivered stunningly beautiful vocals and Sandro Friedrich on Duduk & Ney performed with a depth and beauty I'm starting to take for granted! Thank you all.
Thanks also to George Strezov and his orchestra, and to Tom Tom Studios and their orchestra. This was a truly international affair!
Let's see. One orchestra in Bulgaria, one in Hungary. Co-Composers in Ireland and Slovenia. Singer in Germany. Ethnic Woodwinds in Switzerland. The Latvian Radio Choir. Oh, and me in London of Greek Cypriot heritage! That's a pretty international collaboration 
The album will be released in November as part of EMI's production music catalogue. I hope you enjoy this short teaser. Click EMI Superheroes to see the video.
Meanwhile, the "Revealing Destiny" album is taking shape and should be ready by November also.